The Homicide: For Hire Program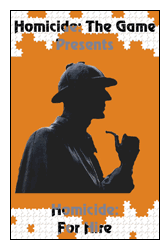 Why kill yourself over a murder mystery when you can have a playwright do it for you!
Overview
In addition to the scripts currently available, HtG also offers customized murder mysteries to fit your group's needs through our Homicide: For Hire program. The Homicide: For Hire program is an affordable option for organizations looking at multiple performances of a Homicide: The Game script. Performance scripts generated through the Homicide: For Hire program are exclusively yours for a limited time. Following that period, they will be added to the library of available scripts.
Customized features may include (but are not limited to): number of characters, format (single room or multiple rooms), level of interactivity, setting/theme, and murder technique.
Homicide: For Hire Procedures
Initial inquiries into customized Homicide: The Game Performance Scripts may be made through the Contact Us section of this web site. Please include your group's requirements in the message area.
Within one week, a writer from Homicide: The Game will contact you via phone to discuss additional requirements, the cost for the Performance Script, and schedule a time frame to expect delivery of the Performance Script. A fax confirmation of the details will be forwarded to you for your approval within 24 hours after the conversation.
Payment for the Performance Script is due immediately prior to its shipment. As with all Homicide: The Game shows, required performance royalties are due one week prior to the opening performance.
Performance Rights and Ownership
All scripts generated from the Homicide: For Hire program are the sole property of Homicide: The Game. All rights and restrictions listed in the Performance Information section of this web site apply.
First performance rights to the requested production reside with the group requesting the script until either the first performance has occurred or (for cancellation purposes) three months after the first performance's originally scheduled date (unless arranged further with Homicide: The Game).
Evaluation Scripts and Performance Scripts generated from all Homicide: For Hire murder mysteries will be posted on this web site following the expiration of their first performance rights.
Cost
The standard cost of a script through the Homicide: For Hire program is $250. However, the level of interactivity and the number of characters may raise the price marginally. As noted above, the writer will contact you to discuss the cost of the mystery before you approve it. The cost will not raise above the agreed amount unless the nature of the script is altered by the requesting party.
Royalties
The amateur royalty rate for each performance of a script requested through the Homicide: For Hire program is $25. That is 50% off the standard royalty rate. Professional groups must contact Homicide: The Game for professional royalty rates. Royalties are due one week before the first scheduled production date. As proof of compliance, a copy of the final program should accompany the royalty payment.